In recent years, the popularity of coconut oil has soared to great heights after Kim Kardashian revealed that she uses it to nourish her tresses. Be it for the skin, hair, or health, coconut oil can have significant positive effects. The uses of coconut oil don't stop here. In this post, we will briefly discuss the benefits of coconut oil before you get to the list of the top coconut oil brands available on the market.
Benefits Of Coconut Oil: 5 Reasons Your Hair Needs To Be Pampered With Coconut Oils 
1. Prevents Hair Damage
According to research published in the Journal of Cosmetic Science, coconut oil can prevent hair damage, and its application could reduce protein loss in both damaged and non-damaged tresses. This is because coconut oil contains a principal fatty acid called lauric acid.
 Lauric acid gives coconut oil its low molecular weight and a straight linear chain, making it easy to penetrate the hair shaft and more effective than other oils (1), (2).
2. Stimulates Hair Growth
The lauric acid in the oil can penetrate hair shafts and promote hair growth (3).
3. Prevents Lice
A clinical study shows that coconut oil, when combined with anise in a spray, can help treat head lice (4).
4. Possible Sun Protection
Studies have shown that coconut oil could have a moderate UV-blocking ability. Although it is much lower than a commercial UV blocker, it may have some potential (5).
5. Dandruff Control
There are no direct results that state the potential of coconut oil in controlling dandruff. Coconut oil contains straight-chain fatty acids that may act as antimicrobial agents (6). Hence, the oil may be useful in dandruff control.
Coconut oil can do a world of good to your hair. But with too many brands on the market, picking the right one could be difficult. Check out our list of the top 10 coconut oil brands on the market.
Top 10 Coconut Oils For Healthy And Lustrous Hair 
1. Viva Naturals Organic Extra Virgin Coconut Oil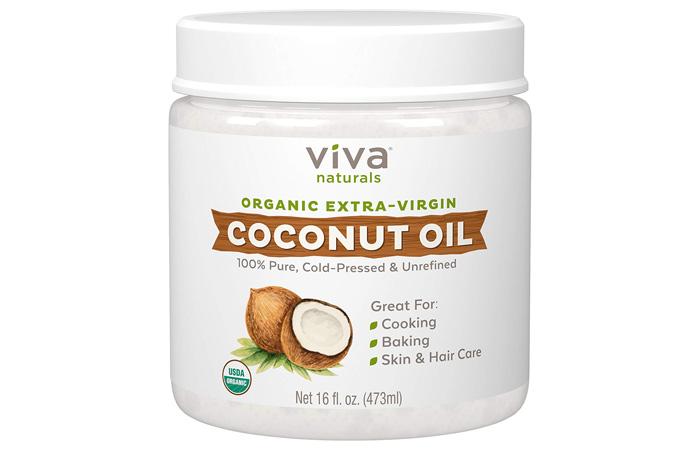 This multi-purpose organic extra virgin coconut oil comes with whole-body benefits. You can use it for your skin, hair, nails, and in your cooking. If you have extremely dry and damaged hair, use this oil as a hair mask once or twice a week. This can help transform dull and lifeless tresses to lustrous and healthy locks.
The oil can also be used as a skin moisturizer, makeup remover, and a delicious bread spread. For better results, apply the oil to your hair, massage your scalp for 5 minutes, and leave it on overnight. Rinse the oil in the morning to nourish and rejuvenate your tresses.
Pros
USDA-certified
No refrigeration required
Non-sticky and non-greasy
Gluten-free
Hydrates dry hair
Reduces breakage 
Cons
None
Buy it here!
2. COCO & CO. Organic Virgin Coconut Oil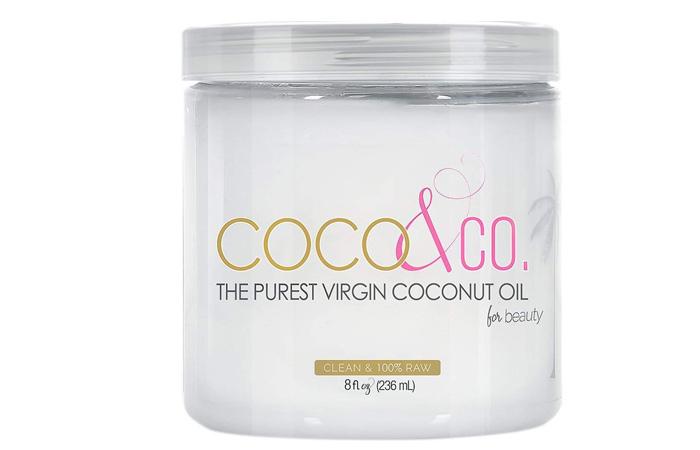 This lab-tested extra virgin coconut oil is fine as silk and pure as water. It is packed with essential nutrients for your skin, hair, and body. The oil's unique extraction process makes it 100% pure compared to regular coconut oil. It is a light formula that melts into your skin. Be it for cooking or your everyday beauty routine, this oil claims to give a ton of benefits.
The coconut oil is made from freshly pressed coconut milk that is chilled and separated, making it into raw and pure oil. When applied to hair, it smooths and softens dry strands to give you silky and nourished hair. With regular use, this oil can give you longer, thicker, and stronger hair. 
Pros
Adds a natural glow to your hair
Improves hair texture
Controls dandruff
Unrefined
Lightweight
Non-greasy
Pleasant aroma
Cons
None
Buy it here!
3. Premium Nature Coconut Oil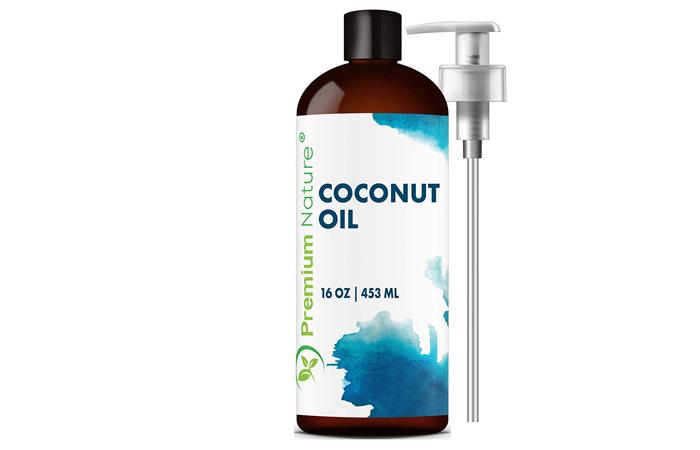 Premium Nature Coconut Oil is a fractionated and cold-pressed oil that provides several therapeutic, beauty, and health benefits. It has antibacterial and antiviral properties that help control dandruff and other fungal infections. This oil contains antioxidants that can help fight free radicals in the body and help prevent premature aging.
The best part about this oil is that it is easily washable and does not leave any residues on your scalp. It makes your hair lustrous and silky without weighing it down. It boosts hair growth and improves the overall texture of your hair. 
Pros
Odorless
Colorless
Very hydrating
Suitable for dry and damaged hair
Improves your scalp health
Lightweight formula
Affordable 
Cons
Buy it here!
4. Sky Organics Extra Virgin Coconut Oil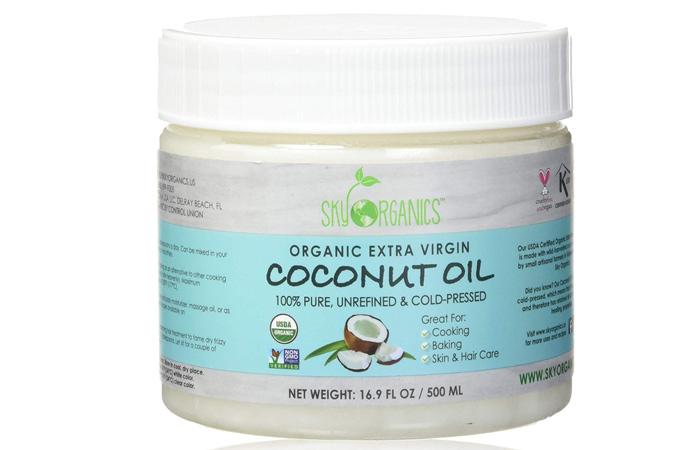 This oil is prepared from organically harvested coconuts. It contains key ingredients and nutrients that help condition and repair dry and damaged hair.
It claims to boost scalp health and combat dandruff, itching, and dryness. It can also strengthen hair roots and promote healthy hair growth. It is a great choice to tame wild baby hair and unmanageable locks.
The lauric acid in this coconut oil (a long-chained fatty acid) penetrates hair to infuse it with strengthening vitamins. To curb dryness, massage your hair thoroughly with this oil, leave it on for an hour or overnight, and rinse your hair the following day with a mild shampoo. Concentrate the oil on the ends of hair to tame frizz and reduce split ends.
Pros
Improves hair texture
Nourishes and moisturizes your hair
Repairs damaged tresses
Adds life to dull hair
Imparts shine
Suitable for all hair types
Cons
None
Buy it now!
5. Viva Naturals Organic Fractionated Coconut Oil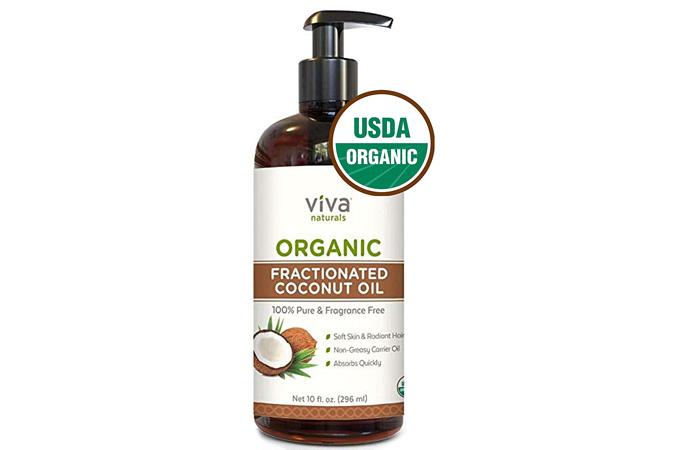 Viva Naturals Organic Fractionated Oil is made from fresh, hand-picked USDA-approved organic coconuts. It is a lightweight and non-greasy formula that moisturizes your hair. The oil nourishes your hair and helps combat frizz and dryness.
You can also use it as a detangler as it helps loosen the knots. With regular use, it restores hydration and enhances shine. This coconut oil could be a good choice for treating dry and damaged tresses.
Pros
Cruelty-free
Ideal carrier for essential oils
Free from additives
Absorbs quickly
Locks in moisture
Cons
Buy it here!
6. Pure Body Naturals 100% Pure Fractionated Coconut Oil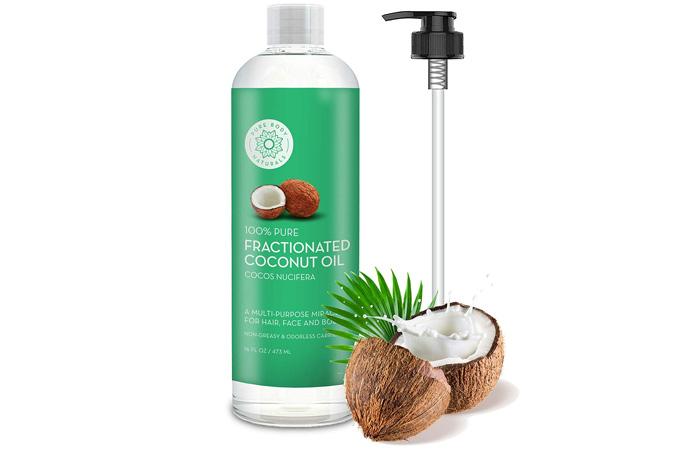 This all-natural, multipurpose coconut oil works like a miracle for your hair, face, and body. It is a non-greasy formula that could work as a perfect hair moisturizer and conditioner. This intensely hydrating oil is ideal for dry hair as it replenishes, rejuvenates, and nourishes dull tresses, giving you soft, silky, and healthy hair.
It improves your scalp health and helps restore hair growth and reduces hair fall, helping you to achieve longer, stronger, and thicker locks. Massage the oil into your hair and scalp. This can help strengthen the roots and promotes rapid hair growth.
Pros
Lab-tested
Promotes blood circulation in the scalp
Non-drip bottle
Free of additives and fragrance
Non-greasy
Hypoallergenic 
Cons
Buy it here!
7. SheaMoisture Head-To-Toe Nourishing Hydration 100% Extra Virgin Coconut Oil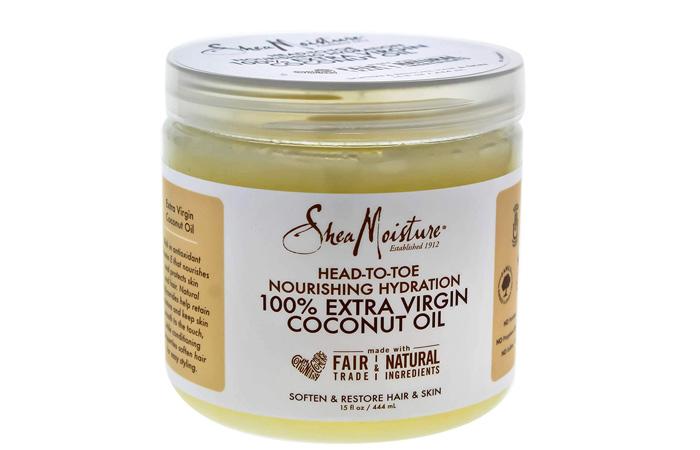 This 100% extra virgin coconut oil is ideal for extremely dry, damaged, and distressed hair. It is packed with vitamins, proteins, and antioxidants that instantly hydrate and nourish hair, and protect it from damage. The minerals and fatty acids in this oil help restore your hair's vitality and elasticity.
The oil adds intense moisture to help keep your hair smooth and silky all day. It also claims to enhance shine and manageability while reducing frizz. Use the oil in the recommended quantities to moisturize, treat, and repair your hair.
Pros
Tames frizzy and unmanageable hair
Suitable for texturized and chemically treated hair
Non-greasy formula
Adds lustrous shine
Softens and conditions your tresses
Does not weigh your hair down 
Cons
Buy it here!
8. Oliology Coconut Hair Oil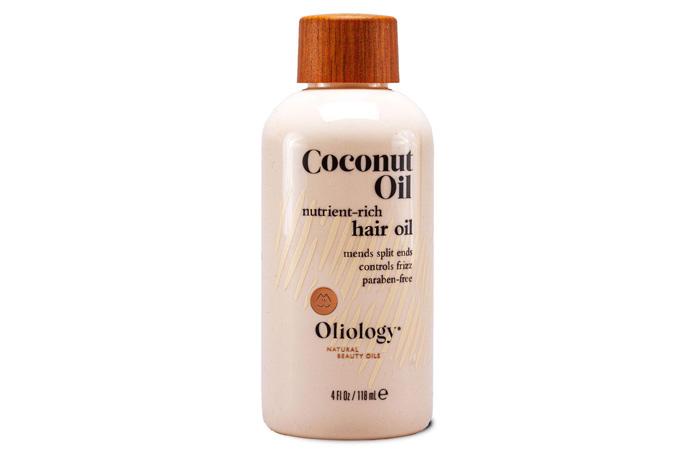 Oliology Coconut Oil is a nutrient-rich hair oil that deeply hydrates each strand, repairs damaged cuticles, and restores vibrancy to dull and lifeless hair.
It is a lightweight formula that rejuvenates and revives even the most distressed hair caused by chemical treatments, straightening, heat-styling, and coloring. The oil adds intense shine and improves your hair texture. 
Pros
Provides soft and silky hair
Controls frizz
Strengthens the roots
Promotes hair growth
Improves scalp health 
Cons
Buy it here!
9. Ultimate Originals Therapy Coconut Oil Stimulating Growth Oil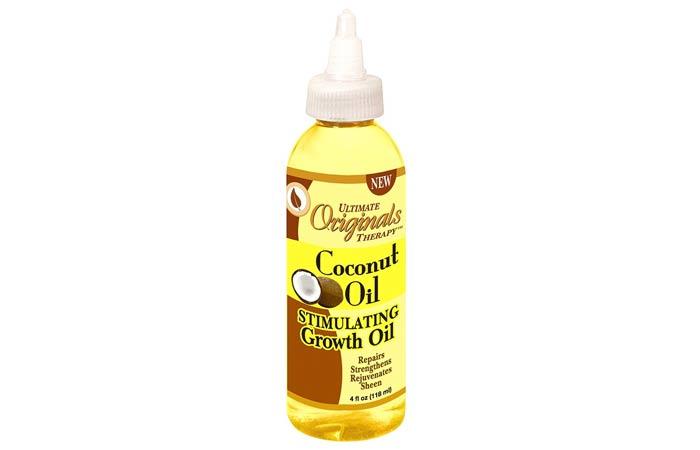 This hair growth stimulator is fortified and enriched with pure coconut oil and is an ideal choice for curly, wavy, and kinky hair. It is formulated to repair, strengthen, and add shine to dry and damaged hair. The formula is packed with essential nutrients that help rejuvenate, condition, and moisturize your hair all day long.
Pros
Easy to apply
Lightweight formula
Non-drip package
Reasonably priced
Cons
Not 100% pure coconut oil
Buy it here!
10. Organic Root Stimulator Coconut Oil Hair & Scalp Hairdress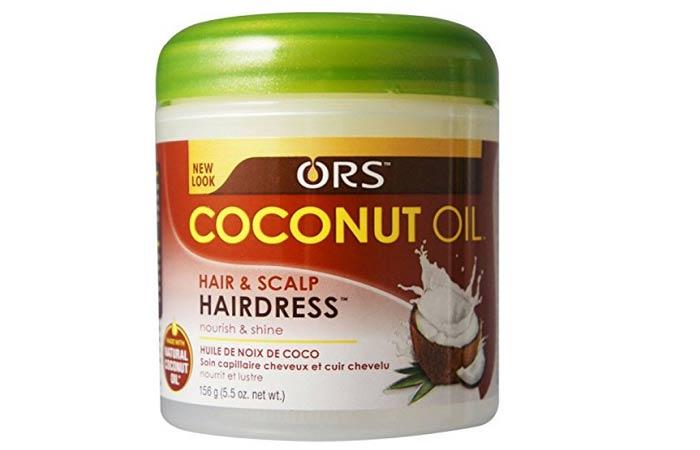 Organic Root Stimulator Coconut Oil Hairdress is a lightweight oil that adds long-lasting reflective luster to your hair without weighing it down. It rejuvenates your hair and scalp, removing dead skin cells to promote healthy hair growth.
The oil improves moisture retention and shine and enhances the overall texture of your hair. It provides nourishment to each strand to prevent protein loss and protect against damage. 
Pros
Rich in nutrients
Very effective
Non-greasy
Softens hair and conditions scalp
Cons
Buy it here!
You can get smoother and healthier hair by using these top-rated coconut oils. Coconut oil is available in different variants. In the following section, we have discussed them in brief. 
Types Of Coconut Oils: What To Know Before Buying Coconut Oil 
1. Organic Coconut Oil
Organic coconut oil is free of pesticides and is extracted from the coconuts that do not go through intensive chemical farming techniques. You should make sure that there is a logo certifying the oil as organic.
2. Cold-Pressed Coconut Oil
Cold-pressed means the processing of the oil is directly carried out from the meat of the coconut at controlled temperatures. This way, the oil has all its nutrients intact.
3. Refined Coconut Oil
Refined coconut oil is made from dried coconut meat. The meat is bleached and sterilized. It is then processed to extract as much oil as possible.
4. Unrefined
This means the oil is freshly made from mature coconuts and has not undergone any chemical processing. The other name for this variant is virgin coconut oil.
Are There Any Side Effects?
Although coconut oil has benefits, it also could cause certain side effects. Check these 12 unexpected side effects of coconut oil before buying.
How To Apply Coconut Oil
As coconut oil is a versatile carrier oil that can blend with many ingredients, it has different methods of applications. Here 10 ways to use it to promote hair growth.
Coconut oil is a potent oil that comes with a combination of health and beauty benefits. If you are looking for an ideal coconut oil that promotes hair growth, pick a suitable product from the list and try it out.
6 sources
Stylecraze has strict sourcing guidelines and relies on peer-reviewed studies, academic research institutions, and medical associations. We avoid using tertiary references. You can learn more about how we ensure our content is accurate and current by reading our editorial policy.
Effect of mineral oil, sunflower oil, and coconut oil on prevention of hair damage, Journal of Cosmetic Science, US National Library of Medicine, National Institutes of Health.
https://www.ncbi.nlm.nih.gov/pubmed/12715094
Health Effects of Coconut Oil-A Narrative Review of Current Evidence, Journal of the American College of Nutrition, US National Library of Medicine, National Institutes of Health.
https://www.ncbi.nlm.nih.gov/pubmed/30395784
The effectiveness of coconut oil mixed with herbsto promote hair growth, International Journal of Ethics in Engineering & Management Education, Academia.
https://www.academia.edu/6773244/27-30-Article_The_Effectiveness_of_Coconut_Oil_Mixed_With_Herbs_To_Promote_Hair_Growth
Clinical trial showing superiority of a coconut and anise spray over permethrin 0.43% lotion for head louse infestation, ISRCTN96469780, European Journal of Pediatrics, US National Library of Medicine, National Institutes of Health.
https://www.ncbi.nlm.nih.gov/pubmed/19343362
UV-blocking potential of oils and juices, International Journal of Cosmetic Science, US National Library of Medicine, National Institutes of Health.
https://www.ncbi.nlm.nih.gov/pubmed/26610885
Fatty acids and derivatives as antimicrobial agents, Antimicrobial Agents and Chemotherapy, US National Library of Medicine, National Institutes of Health.
https://www.ncbi.nlm.nih.gov/pubmed/4670656
LATEST ARTICLES
How To Use A Hair Mask – 4 Simple Steps

Hair masks are versatile and magical hair treatments that not only help repair, soft and hydrate your hair. Checkout these simple steps to apply hair masks.

15 Best SheaMoisture Hair Care Products You Need To Try

SheaMoisture was a dream of Sofi Tucker, a widowed mother of four who started selling shea butter, African black soap, and other homemade hair and skin care

Best Hair Wash Tips To Wash Your Hair The Right Way – Our Top 10 Tips

Right way to wash you hair may not seem important but it is a must. Check out these best techniques hair wash tips that can help you wash your hair better.

10 Best Fragrance-Free Hair Sprays For Sensitive Skin

If you have sensitive skin, the struggle of finding unscented hairspray is quite a hassle. Worry not, we have curated a list of the 10 best-unscented
The post The 10 Best Coconut Oils For Hair Growth – Top Picks Of 2020 appeared first on STYLECRAZE.