Raksha Bandhan is celebrated on the first full moon in the month of Shravan and is just around the corner. You must be thinking of ways to surprise your brother on the big day. The focal point of Rakshabandhan is the tying of Rakhi and exchange of gifts.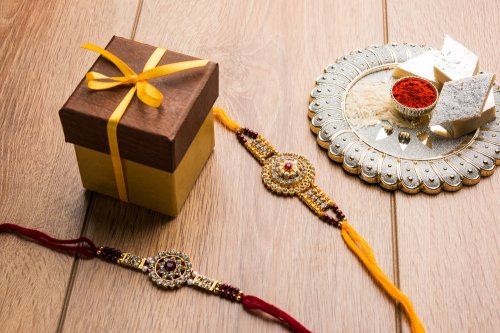 Planning and gifting the best to your brother can be difficult and time taking sometimes. Equally important is keeping sync and accordance between your Rakhi and Gifts. With the ease offered by many companies with online stores, you can now send Rakhi to India with best matching gifts.
To match your gifts with the Rakhi, first, choose your Rakhi after considering certain factors. The age, preference, style, and choice of your brother play an essential role in your selection of the Rakhi. For teenage and young brothers, kids Rakhi and fancy designer Rakhi with vibrant colours is preferable.
If your brother is a bit older for such, then go for bracelet Rakhi or Pearl Rakhi. According to the likes and choices, choose from the diverse collection of Rudraksha Rakhi, Lumba Rakhi, Kundan Rakhi, Silver Rakhi, and many more appealing ranges.
Gift Ideas to Match with the Rakhi
Bring out the best essence of celebration by presenting your brother with an amazing gift along with the Rakhi. Here go some tips and ideas to help you with the task. Meaning and value of the gifts add to the appeal of the Rakhi and vice versa.
Children are naturally joyful. If your brother is a young champ, then the best gifts to go with his nice colourful Rakhi will be chocolate. Cakes and collection of chocolate and celebration packs will cheer him up just right.
If your preference lies in traditional and reserved choices, then match your Silver Rakhi or divine Rakhi with a gift hamper including several items. Rakhi Gifts such as sweets or dry fruits also goes very well.
Best innovative gifts for teenage brothers include personalised steel bottle, stylish wall clock, heart keychain, etc. Also, mugs and photo accessories make very nice gifts to go with the Rakhi.
Some Classic Combos That You Can Opt For
Rakhi and gifts make a perfect combo. Key to make Rakshabandhan memorable is selecting the best combination of Gifts and Rakhi. Some classic combos that are known specially created are given as follows:
A nice set of Silver Rakhi with a plateful of traditional sweets like Kaju katli or boondi laddoo.
A box full of cookies and soan papdi with a Stone studded Ganesha Rakhi and Ganesha idol.
Silver stone Rakhi with dry fruits and sweets is a long-time choice of sisters.
A multicoloured Om Rakhi with an attractive printed mug and delicious fruit and nut chocolates.
A beautiful Kundan Rakhi made of silk, stone, and gold plated metal, with a big chocolate bar with a message for brother.
These ideas of Rakhi Gifts go perfectly fine with your Rakhi. Choose the best from the highest-rated online stores and send Rakhi to Bangalore to strengthen the bond that you share with your sibling.
Visit Us for Exclusive Rakhi and Rakhi Gifts
Raksha Bandhan is just around the corner. For unique ideas of Gifts that matches perfectly with your Rakhi, we at Rakhi Bazaar are keeping the collections up to date and very much attractive.  Visit our page and present your brother the perfect gifts.