All-Over Curl
Springy spirals are flirty, fun, and perfect for the NYE party scene. Use a 1″ tapered curling wand to boost your bob, then mist with ample hairspray to keep your curls fresh all night long.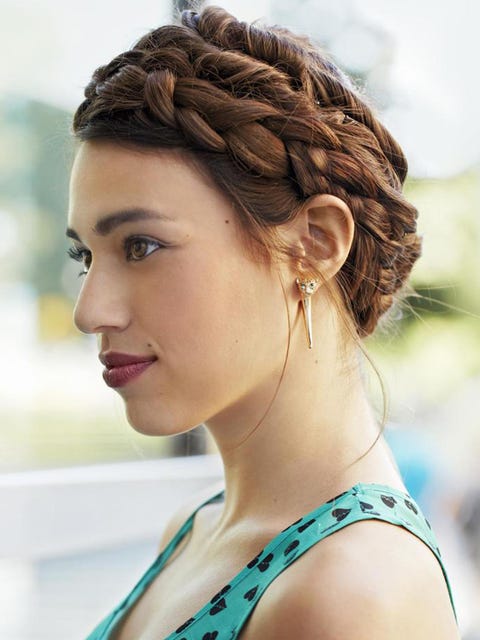 Mixed Halo Braids
Braids are a win for any ~fancy~ occasion, and this halo style is a totally fresh take. Divide your hair into four sections. Braid the front pieces and coil around your head, pinning as you go. Twist the back sections and repeat the pinning process. Done!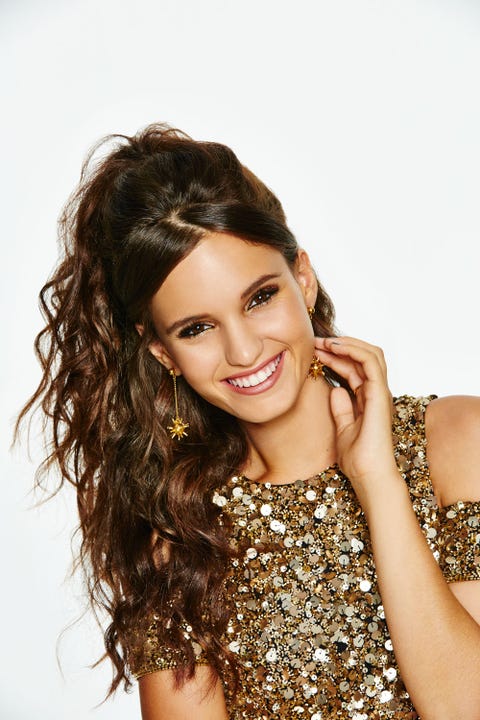 Make your favorite childhood hair trend feel totally 2017 by creating an angled part just in your bangs. It's the perfect edgy addition to high-volume party tresses.
Sleek Topknot
Holy chicness! Apply a lightweight gel to damp hair and slick into a high pony. Then split the length of your hair into two sections, twist them together, and wrap into a bun. Secure with bobby pins.
 Knotted Braid
To dupe this twisted look, make one massive braid starting a three inches above your ear, sweeping it around the back into a knotted bun. Then, pull out the layers in your braid for next-level texture.
Movie Star Waves
Old-school glam never goes out of style. Give yourself an epic side part, then twist your tendrils around a 2″ wand, curling away from your face for a breezy flipped effect.
Bubble Ponytail
To snag this ~wild~ look, secure the top third of hair into a pony at your crown. Gather the first pony and a second section of hair into a pony on the back of your head. Then, pull pony and the rest of your hair into a third ponytail and the nape of your neck. To make the bubbles, just tug out sections of hair in between each elastic.
Amp up your everyday space buns with the requisite dose of holiday sparkle. Mix clear hair gel with your chosen glitter, then paint it on to your part using a dye brush.
Pretty Sideswept Bun
Bring out your sweet side for the New Year with a volumized low bun. Separate a 3″ section of hair at the front, then pull the rest into a low side ponytail. Twist and pin small pieces of the pony to create a slightly messy bun. Then, loosely drape the front section to frame your face and pin into the bun.
Cute Hair Bow
Apply a leave-in lotion to tame frizzies and blow-dry your hair. Twist two small pieces of hair back and tie them in a bow, just like you would your shoelaces!
Glam Waves
Let your hair flirt! Apply a volumizing mousse to damp hair and blow it straight, then wrap small sections around a medium curling iron. Add a metallic head wrap for extra glam!
Side Braid
Rocker chicks, meet your New Year's Eve look. Use your favorite wand to create all-over messy waves, then part your hair on the side. Gather hair from the smaller side and work it into a single Dutch braid that wraps from the start of your part to the nape of your neck.
Ribbon Braid
Dab pomade on dry hair to give it grip. Take a long ribbon and wrap it like a headband, tying it at your nape. Gather hair to one side and braid, working in the ribbon as you go.
Romantic Waterfall Braid
Apply mousse to wet hair to create texture, then blow dry. Start braiding your hair in a sideways direction, letting one section drop every time you cross and picking up another!
Sparkly Braided Headband
Use your favorite jeweled headbands to create this glamorous look! Check out Beauty Smartie Megan's amazing video tutorial to find out how.
Wispy Top Knot
If your NYE plans are totally casual, go for a laid-back look that's still festive. Twist up your locks, then allow a few strands to fall loosely around your face. Secure the remainder into a bun on top of your head.